There are a number of helpful ways to document the incidents occurring after your accident. One way that has proven useful for a number of clients is to maintain a personal injury journal or diary detailing all the aspects of the case. If you are enduring significant medical testing and doctor visits, you should document each procedure in your journal. Your journal will be helpful to you when you take the stand in your personal injury trial as the rules of evidence permit witnesses to jog their memories if they cannot recall a certain event with specificity. Your Ventura County Personal Injuyer Lawyer can help you start your personal injury journal and maintain each entry as your case continues.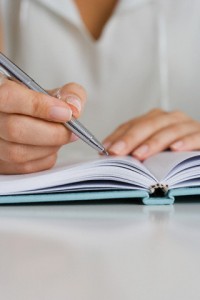 If your injury does not manifest blatant physical symptoms, a journal is a very helpful way to document what you are feeling inside. It may be difficult for the jury to understand your pain level and experiences without the journal as you may "appear" healthy and strong. You should try to make an entry every day, if possible, and write down your aches and pains and how your condition is negatively impacting your life. If you have to miss work on a specific day due to your injuries, document this in the journal as well.
It is best to make journal entries in your own handwriting in the event you are unable to attend your trial and someone has to read your entries to the jury. The rules of evidence permit such reading as long as the handwriting can be property authenticated by one with knowledge of your handwriting. If you type your entries, it is impossible to testify to any degree of certainty who actually wrote the entries. Of course, if your injury precludes you from handwriting, it is still better to document your injuries in typeface than not at all.
If you have further questions about a personal injury diary or journal and would like to speak to a Ventura County Personal Injuyer Lawyer about your condition, call the law office of Gary Mitchell at  805-449-4244 today.